I still remember the day I went to the cinema to see the first movie of Harry Potter and how I liked everything that had to do with his universe. He hooked me so much that after seeing the first three I decided to start reading his books and since then I love everything related to your world of magicwhich is why I'm looking forward to the release of Hogwarts Legacy next month.
Luckily I was able to calm my cravings a bit not long ago when I had the opportunity to go to the Warner Bros. offices in Madrid to test a preview that showed me some of the strengths of this title developed by Avalanche Software. He had already won me over after watching his many videos, but once you get behind the wheel things improve considerably.
Touring inside and out the fascinating Hogwarts castle
Unfortunately there are certain parts that I cannot talk about in my impressions due to spoilers, but I can focus on many others that are not wasted either. That being said, at a certain point in the demo I entered the Wizarding World of Hogwarts. It seemed like an advanced point in the adventure because my character already had a few spells and could even summon a magic broom to fly over the stage.
Speaking of my character, in the editor I could see that it was very complete and full of options of all kinds to modify the hairstyle, face and skin color, as well as being able to put scars, different expressions, etc. Also, I was struck by the fact that you could put the sex you wanted, to choose between a wizard or a witch, but the voice did not have to correspond, since the first one could be assigned a more feminine tone and the second one more. masculine without any problem.
In this sense, another detail that I found curious is that our wizard or witch talks a lot, so they have had to double all their conversations with the different tones. In any case, the opening bars of the demo consisted of freely explore everything around Hogwarts castle and it is a real pass.
If you are one of those who have seen the movies, you will feel that it is as if you were watching a new one, because absolutely everything is identical, with the same corridors, squares, towers, etc. In addition, to this we must add the fact that its size is enormous, because out of curiosity I wanted to go around the castle all the way and it took me a while, despite the fact that the broom moves fast.
But is that graphically it is amazing because of how everything looks because of its lighting, the amount of detail and everything that can be seen in the distance between rivers, trees and mountains that I wanted to visit. However, he was not alone at any time because he breathed that there was life in the environment with crowds of students talking among themselves or simply walking outside Hogwarts.
I could have spent more time flying here and there, but I also wanted to see what was in store for me on foot. So I came across some places called Floo Flame that I couldn't use, even if I activated them, but from their green color it's quite clear that they must be areas that do the fast travel function, as it happens in the stories of Harry Potter with Floo Powders by having to use them to move around the Floo Network.
On the other hand, I met a student who challenged me to play a kind of petanque with giant balls that had to be dragged with a spell. A very fun minigame that I hope was not the only one available, because the truth is that I did not find more before going inside the castle, where I was fascinated as soon as I crossed the doors of one of its squares.
Although on the outside I could see many students everywhere, inside Hogwarts the number of wizards and witches with their house robes, wands and books was an exaggeration. Among the rooms that I was able to enter was the library, and I also got to explore the greenhouse, in both cases again with gigantic dimensions, which makes one suspect that you can spend hours going from one place to another.
The first part of the demo concluded when I joined a magic dueling club, in which I had to play a confrontation in which we fought two against two, my partner being another student controlled by artificial intelligence. At least I liked that there was combat here too, although in general the exploration stood out because the game invites you to it for all the secrets that are hidden in any corner, such as a torch that I could light with another spell and in return it unlocked a collectible item.
This is how magicians spend them in combat with spells
Moving on to the second part of the demo that I can talk about, in this case the adventure took a big leap in the plot, something that was noticeable due to the level of our character and the fact that the repertoire of spells was broader . Here the objective was to carry out a mission in which you had to go through a poacher camp to locate a dragon they were holding.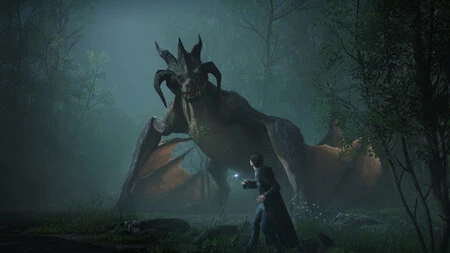 So I came to a place where there was a few mages in the form of enemies that I had to deal with based on casting spells, with a gameplay that the truth is that I was pleasantly surprised. For example, among them was "Levioso" to make them float through the air and thus take the opportunity to hit them, although there were others much more lethal belonging to dark magic, such as "Crucio" to make our adversaries writhe in pain.
Naturally the most powerful spells had their recharge time so they couldn't be used constantly, but the truth is that everything was very intuitive with a normal attack button, while with the most important spells we could alternate between several selections divided into groups of four. A great way to quickly access them or toggle them when the situation requires it.
But not all magic is to cause damage or altered states, because there are many others that are also very useful to interact with the stage. Without going any further, one of them I verified it myself because in the camp where I fought there was a wooden bridge that I destroyed with a spell, killing myself from the blow I hit when I fell to the ground. In a second he tried to break it again, something that was not the best of ideas because it was necessary to move forward.
It is there where you can use spells like "Repair" to restore items that have been shattered, although there are also others to discover things that at first glance do not seem to exist or to make our character invisible. However, if you get too close to the enemies they will notice your presence or that there is something strange in your position. At least it came in handy for me to sneak into the base where they were holding the dragon that had to be rescued.
Almost reaching the end I had to solve a lock picking minigame that I played with the vibration of the controller and the rotation of the sticks, about which I have to say that it was a bit strange and complicated for me, but also because it was noticeable that the game was more advanced, so it is to be expected that the mechanics of these are easier to understand how they work.
Be that as it may, shortly after it was time for the final battle against a large group of magicians, in order to check again how excellent its combat system is and how fun it is with beams of spells flying everywhere or objects that they could be thrown simply by selecting us. Luckily the game itself warns you when they are targeting you or when they are going to damage you so that you have time to dodge the impacts and not be seriously damaged.
In the case of not having enough reflexes, it is possible that our character is briefly neutralized, at which time a kind of quick time eventbecause it will touch us press a certain button to get out of the spell and thus return to action more quickly. On the other hand, the attack spells appeared on the screen in different colors, something to take into account because the enemies had barriers that we could only eliminate by hitting them enough or using a spell of the same color, so it was very intuitive. .
Beyond all this, based on using spells, there came a time when you could unleash other more devastating ones that caused real havoc, like one in which you caught an enemy and began to stamp them on the ground without stopping. or also another with which I caused a wall to collapse so that a mountain of stones fell on top of another of them.
All of this over the course of an hour or so that the demo lasted and that passed in a breath, leaving me wanting the demo to arrive once and for all. Feb. 10 to play thoroughly Hogwarts Legacybecause it has automatically become one of the games I'm most looking forward to in 2023. Honestly, we'll have to see what happens with The Legend of Zelda: Tears of the Kingdom and other important releases, but without a doubt this title based on the universe of Harry Potter He has everything to aspire to be a serious candidate for the best of the year.
A brilliant, exciting world, full of magic, a splendid graphic and sound section, some fun combats and on top of that, you put it together with everything related to the saga created by JK Rowling and you have a combination that can place this adventure as one of the best of the current generation. In a couple of weeks we will find out if it is fulfilled.
platforms: PS5, Xbox Series X/S and PC
multiplayer: Not
developer: Avalanche Software
Company: Warner Bros.
Launching: February 10, 2023