2023 has many ballots to become one of the best years we've seen in a long time all video game fans. The first few weeks have started out on a high with a few essential releases, but this has only been an appetizer, because what lies ahead for the next few months is worth taking off our hats to.
Undoubtedly one of the most anticipated of all is Final Fantasy XVI, the new installment of the popular Square Enix saga that is generating enormous expectations. In addition, I am fortunate to be able to say that not long ago I traveled to London to test a wide preview of what will be seen in a few months.
Before going into details, what I can tell you about is that it left me speechless from start to finish, so be very careful because the next final fantasy aspires to be one of the biggest candidates for GOTY 2023.
Disclaimer: This is a special version created for the media to experience and the contents may vary in the final version.
Unleashing Clive's full potential in frenetic combat
About the plot of this new chapter there is not much to tell because the first part of the test took place at an advanced point. What we know about it is that it takes place in the fantasy world of Valisthea, where all its inhabitants are divided into six different factions. In the middle of all this mess is clive rosfieldour protagonist and the only one we control from start to finish.
The test began in a castle that our intrepid hero had to enter in the company of his dog / wolf named Torgal and his comrade in arms Cid. The good thing is that the action didn't take long to start and in the best possible way, leaving us with a Action RPG in real timelike what we have already seen in Final Fantasy XV or more recently in Final Fantasy VII Remake or Crisis Core -Final Fantasy VII- Reunion.
From the beginning it is clear that Ryota Suzuki is involved in the combat system, the person in charge of this same section in works like Dragon's Dogma or the impressive Devil May Cry 5. All this is appreciated because the battles are the most frantic and spectacular from the first bars, without giving ourselves a single moment to breathe while we don't stop hacking at the adversaries that are emerging, without random encounters in between.
By pressing buttons it was possible to perform normal attacks, jump or dodge, but by combining all these abilities you could unleash some amazing combos, with numerous effects on the screen to make everything more impressive. What's more, the fights are so entertaining and interactive that it's impossible to take your eyes off the screen and you're just looking forward to a new one as soon as you've finished one.
Although in this case Cid was controlled by artificial intelligence and was giving us a hand on his own, we could give Torgal orders in case we wanted him to execute a particular ability, such as attacking or using a small heal, which was never a bad thing. Even so, the help of the allies did not give me the feeling that it was so decisive as to tip the scales in my favor.
Beyond attacking without rhyme or reason, Clive has the ability to take advantage of the powers of the Eikons, the summons of this game. Thanks to them, he is able to use magic and special abilities that cause real havoc due to the incredible amount of sticks that our protagonist can inflict. However, their respective uses have a waiting time that is reflected in some colored spheres corresponding to each Eikon, in order to be clear about which ones we could use or not while waiting for the recharge times.
For some of these devastating attacks, it will be enough to simply press the corresponding buttons, although others, such as Titan's abilities, require an attention to an attack wheel to unleash their full potential at the exact moment. For this reason, between one thing and another, you do not stop carrying out actions of all kinds in combats that are the best I have seen lately.
In fact, attacking without stopping also has its corresponding "prize", to call it something, because thanks to this you can break your will gauge, which causes them to be stunned for a few seconds and at the same time take more damage than normal. On the other hand, it will not always be enough to go from the front, because some enemies require being hit from behind, although for this there are also abilities capable of destroying their guard.
At the end of each fight the game gives out a series of spheres, depending on how well you do, which can be exchanged for other abilities of the Eikons in order to execute even more combos or to unlock other special attacks. Without a doubt, this is a good way for each one to adapt the way of playing to their own style or based on the skills that they like the most, because you can be sure that there are not especially few.
But if there is something that more directly influences the gameplay, it is the emblems that you can equip. Instead of introducing difficulty levels, these items are the ones that directly alter everything that happens on screen. In this way you can equip one so that it is very easy to dodge the impacts with the press of a button, for Clive to automatically perform combos without having to worry about carrying out the combinations ourselves or even for Torgal to act on his own without us giving him orders.
In another order of things, something that I liked is how well it makes use of the DualSense with the haptic vibration in each hit or how the adaptive triggers provide greater resistance at certain times, such as when lifting a door with bars, making clear the effort that was required for the characters.

Some movie battles against the imposing final bosses
After a few fights, highlighting the spectacular setting of the settings and above all the realism of its characters, it was time to fight against the final boss of this first part of the demo. What made this encounter so special is that when you took a certain amount of life out of it, the battle alternated between direct action and cinematic sequences.
It is precisely these scenes that I found tremendous and one of the best graphics I've ever seen in a video game in my entire life, not to say directly the best. Of course, it is noticeable that its development has been exclusive to PS5 and the previous generation of consoles has not been taken into account, because a huge evolutionary leap can be seen at all times.
Watching them felt like I was watching a real movie or even watching a fight worthy of the best of dragonball, because it's not just that the characters got into a fight, it's that they also carried out attacks capable of destroying the stage to pieces so that everything would fly up into the air. And in the midst of all this, one had to be aware of certain quick time events to block attacks at the right time or to return them with even more force.
In any case, it doesn't matter how much I tell you what has left an impact on me because all this it is worth seeing for yourself to realize the magnificent development behind this installment. As if that wasn't enough, some of the most powerful attacks were listed under their own name, with some that just reading them made it easy to tell something was coming that could put us in the dust in no time.
Despite everything, this was not the fight that left me the most ojiplático. Because in the second part of the demo I had to face off against Garuda's gigantic Eikon, which once again gave me a bout that takes away the hiccups for all of the above. Of course, the highlight came in the continuation of this same fight, when we had to face Garuda with our own Eikon, which led to a fight between two huge creatures.
Something that Square Enix told us about it is that these same battles will be different for each Eikon. In this particular case it seemed that he was in the middle of a wrestling match for the keys, punching submachine guns, for the fact of throwing our adversary through the air, throwing fireballs and much more. Although most of the match was scripted and we only had to press the buttons that appeared, it does not mean that it was something simply sensational due to the brutality that his blows gave off and once again for the excellent graphic section.
Also, something that I also loved was the fact that performance was outstanding, because the action took place at a constant 30 fps and did not drop one bit for many events that took place on the screen. The soundtrack was not far behind either, with some splendid themes by the composer Masayoshi Soken (Final Fantasy XIV), while its dubbing was also up to the task with a good cast of voices in numerous languages, including Latin American Spanish, but the Castilian has been left aside.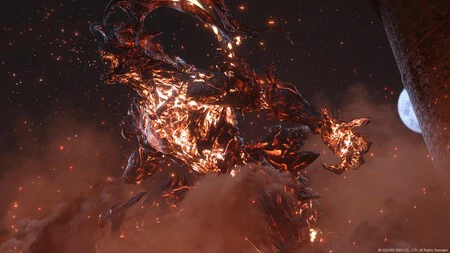 In short, before testing final fantasy 16 I thought it would be difficult for there to be a game that could generate as much expectation as The Legend of Zelda: Tears of the Kingdom. However, once played, it is clear to me that the new episode of the Square Enix saga is one of the best that will go on sale in 2023 and it would not be surprising that it is named as the GOTY. Of course this is just an early test and we will have to wait for the final version, but the hype It has put me through the roof.
platforms:PS5
multiplayer: No
developer: Square Enix
Company: Square Enix
Launch: June 22, 2023