Music and rhythm video games have something that manages to hook me like few others manage to do. I don't know the number of hours that I have been able to dedicate to the different titles of the Rhythm Paradise saga, although another one that has not been left behind at all has been the series theaterhythmin which you do not stop playing melodies from all the games of final fantasy.
For this reason, especially after trying the demo that was enabled last month, it was very clear to me that Theatrhythm: Final Bar Line had all the ballots to become my new well of hours, something that has fulfilled perfectly. However, the fact that it is a vice is enough to consider it essential? Well, that is something that I plan to tell you in the following analysis.
Hundreds of songs to play non-stop
A good way to define this installment of the musical franchise would be to say that it is one of the greatest tributes it has received to date, especially its soundtrack. With almost 400 themes To play it is practically impossible to think that your favorites have not been included in this huge compilation that brings together the most emblematic music that has appeared from the first Final Fantasy to Final Fantasy XV.
In addition, it does not leave out the best-known spin-offs, such as Final Fantasy: Crystal Chronicles, Final Fantasy Type-0 or Final Fantasy Tactics, among many others. A real madness for everything that has been added and that you can easily spend tens and dozens of hours just by playing any of the melodies that have been chosen once, so imagine how much you can multiply the duration if you are of which you want to replay one or try to get the highest score possible.
All this leaves us with more than 40 albums that are available as standard for everyone who gets a copy of the game. On the other hand, those who do not find it enough can choose to purchase their special editions or downloadable content, which leaves us with even more melodies and many others that will arrive in the future through season passes.
It must also be recognized that quantity is not synonymous with quality and just because there are so many hundreds of topics does not mean that the title is still better. Naturally it helps to make it hard to feel like we can't find our favorite tunes, but it doesn't feel as good for everyone to be part of a rhythm music game, either because they're too slow or they don't manage to engage you enough to that they are worth it.
A gameplay that, within its simplicity, makes you want to play one theme after another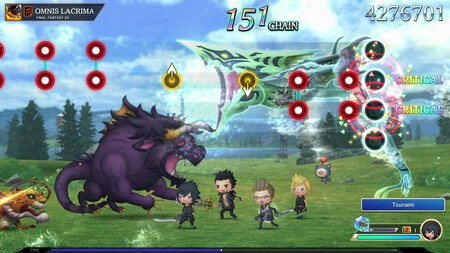 If you are one of those who have previously played any of the Nintendo 3DS installments and they fascinated you, then the most normal thing is that the same thing happens to you again because the proposal remains exactly the same at a general level. When entering the task, a total of four lines will appear on the screen through which buttons of different colors will scroll, which are the ones that you will have to press at the exact moment in which they reach the end of their journey.
The mechanics could not be simpler, because in reality it will be enough for you to press a single button, the one you want, which is the one that will carry out all the actions. It can be one of the main buttons or even one of its triggers, but you also have to be aware of moving the control sticks in certain directions or holding down the buttons in the event that the melody requires it at any time.
Said like this, it might seem that it is easy to hit every time, but nothing is further from the truth, because that only happens at the lowest difficulty level. However, as soon as you select one of the three upper levels, the story changes completely with an infinite number of buttons that appear everywhere, reaching the point that you have to have some extreme reflexes to get a more or less decent score and not fail in the attempt.
In addition to all this, you have to choose a group of four characters among the dozens of heroes and heroines that have appeared throughout the saga. Each one of them fulfills a role during the themes, so that some will be specialized in attack, others in defense, in healing, etc., to which is added that all of them will obtain abilities and spells based on raising their level with the experience that they will receive the better the score that is achieved.
Therefore, if you already want to play the songs without stopping, to this is added the fact that want to perfect all characters as much as possible so that they cause even more damage to the enemies and therefore the final score is higher. Even so, it has not given me the feeling that some are clearly better than others, so in the long run I have ended up choosing my favorites or what at that moment I wanted them to gain more experience.
A content that asked for a little more variety
Although the proposal Theatrhythm: Final Bar Line It is very entertaining, the problem is that it can end up being a bit repetitive for those who are looking for something more. This is because there are practically no very varied game modes, because there are only three of them and in all of them the mechanics are identical, but the one where you will spend most of your time is in Series Missions.
In it you will have to overcome the different games of the saga final fantasy based on completing all its melodies. In the case of leaving alive, access to the next phase is unlocked and so on, although to offer an additional challenge all of them invite us to meet an objectivesuch as defeating a certain number of enemies, not using items, or other requirements to receive special rewards in return.
In any case, the most important thing is to get keys as these are the ones that will grant access to the rest of the episodes and incidentally to their respective characters for those who want to gradually expand their roster of heroes. In another order of things, the enemies of each theme have strengths and weaknesses, which is another point to take into account when selecting certain characters in the case of trying to eliminate as many as possible during the length of the music.
Another option is to opt for the Musical Scenarios mode, which really only serves to quickly choose any of the previously completed melodies to have faster access to them. For the rest, there are also Multi Battles in which up to four people can get together to compete with each otherwith the peculiarity that powers can be used to bother our opponents so that they obtain a lower score than ours.
And up to there you can read, because there are no more game modes that offer a somewhat different experience from the one already mentioned so far. What is worthy of special mention is the graphic section with that characteristic chibi touch of which both the protagonists and the villains boast, in order to give a more likeable and comical touch to the entire game, although having to be so aware of the buttons, the truth is that everything that happens in the action is relegated to a second plane in which it is almost impossible to pay attention to what is happening.
VidaExtra's opinion
Fans of musical games and the soundtrack of the final fantasy they have a date they can't ignore with Theatrhythm: Final Bar Line, because it is the ideal way to enjoy all the most legendary songs from the Square Enix franchise, with almost 400 different melodies. A good way to remember old times with this saga that has been with us for more than 35 years in order to better understand its history and the music that has always made it so special thanks to composers such as Nobuo Uematsu, Yoko Shimomura, Masayoshi Soken and many others.
The only drawback is that the game modes are not very different from each other, which means that the proposal shows all its cards very quickly, so you have to be very clear about what you are going to find so that it cannot be repetitive. Of course, to those who like musical titles a little, the level of entertainment that the title will offer you gives the impression that it knows no limits.
Theatrhythm Price: Final Bar Line
The consoles on which Theatrhythm: Final Bar Line has been put up for sale are Nintendo Switch and PS4. When it comes time to get hold of it, you can opt for its physical edition, with a price of €57.99while those of you who want to have it in its digital edition can purchase it for 59.99 euros in the Nintendo eShop and for 59.99 euros in the PlayStation Store.
Theatrhythm Final Bar Line PS4 ITA/ESP
Duration of Theatrhythm: Final Bar Line
As I have already pointed out at various points in the analysis, there is no doubt that the duration of Theatrhythm: Final Bar Line It is one of its strongest points. you can easily throw yourself hundreds of hours to unlock all its content, but if you are one of those who want to surpass yourself with the highest possible score, then this section will increase even more.
Theatrhythm: Final Bar Line
| | |
| --- | --- |
| platforms | Nintendo Switch and PS4 (analyzed version) |
| multiplayer | Yeah |
| developer | Square Enix |
| Company | Square Enix |
| Launch | February 16, 2023 |
The best
The huge and wide variety of melodies.
The almost infinite replay value it offers.
A very simple mechanic that engages from the first minute.
Worst
A little more variety is missing in the game modes.
The characters are in the background during the themes.