There is a truth that is not commented, but that affects millions of players: everything that implies build and decorate usually carries more weight than a main story. There you have Fallout 4, our lost son and us investing 40 hours straight to build a base with all the furniture placed to the millimeter. In Hogwarts Legacy something similar happens.
Warning: This post contains spoilers of Hogwarts Legacy.
The Room of Requirement has spelled doom for many users of Hogwarts Legacy. It is a completely customizable space with the possibility of decorating it with a huge selection of furniture, statues and other summoning spells. It has a lobby, a room to the left and four nurseries to raise animals.
Some users have gotten creative and have created real wonders. Others of us have decided to be more practical by creating crops to have a constant supply of ingredients and habitable zones for animals to live comfortably. Whether you want to make your living room pretty or make it useful, you need these 10 Summoning Spells which I share below.
Description Table
This is the first item you will see in the Room of Requirement. At first it will be completely useless, but soon you will start to find mysterious equipment, with a "?" in the middle. This table is for reveal which piece it is and be able to equip it. The best pieces of equipment are usually of this type.
It is enough that you have 1 unit of Description Table in your Room of Requirement.
Enchanted Loom
He Enchanted Loom is another Summoning Spell as necessary as the Description Table, especially if you're playing on Hard difficulty. Earned by following quests from Deek, the house elf who helps you run the Room of Requirement. serves for increase stats and put attributes to your pieces of equipment. In other words: to improve them.
It is enough that you have 1 unit of Enchanted Loom in your Room of Requirement.
garden tables
Garden Tables are incredibly useful Summoning Spells for users who focus their character builds on potions. You can get all available tables at Tomes and Scrolls, shop located in Hogsmeade. This is where things get more complex…
you can put a maximum of 7 garden tables of any type. My recommendation is that you opt for 4 or 5 units of Garden Table with Two Large Pots and 2 or 3 units of Garden Table with Five Small Pots.
There are a total of 8 seed plants, which you can distribute among the 8-10 holes on the large tables and 10-15 holes on the small tables. You can plant 2 units of each plant that requires medium or large pots on the large tables and the rest of the plants will be in small pots, so distribute them as you wish on the small tables.
potions stalls
It is useless to have Garden Tables without potions stalls and vice versa. You can buy all Summoning Spells from potion tables at Tomes and Scrolls in Hogsmeade. They are used to make potions and the amount you can make depends on the number of tables you set.
At first you can only put the simple tables, which only have a hole for potions. My recommendation is that you buy the T-Potion Stand Summoning Spell as soon as possible and put 4 units in your Room of Requirement. To take up as little space as possible, place them in a rectangle. You can see it in the video at the beginning of the post.
Each table has 3 holes, so you will have 12 holes to make potions. When you have made the top, make one more. You won't be able to pick it up, but you'll have it ready when you make potions again.
Jumping Pots
These jumping pots are your best friends. You can buy his Summoning Spell at Tomes and Scrolls (Hogsmeade) and put a maximum of 3 units. Their function is very simple: they make a random potion every so often and without consuming materials. In other words: three free potions every time.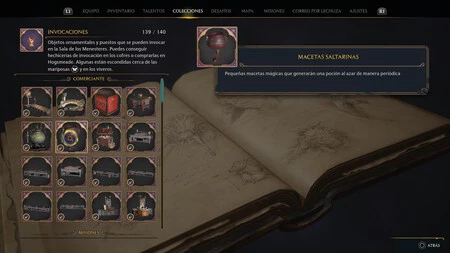 Material Refiner
I'm going to say it clearly: you NEED the summoning spell Material Refiner if you want to make large constructions and decorate your Room of Requirement a lot. You can place a maximum of 3 units. And why do you need it so much? Because they produce Opals, material needed for summoning magic, automatically, non-stop, and at no cost.
manure composter
Even if you don't like the idea of ​​having manure in your Room of Requirement, believe me you want to have the maximum 3 units that it allows you Hogwarts Legacy, especially if you are an herbologist. Because? Because they produce manure, which is used to improve the efficiency of plant cultivation, automatically, without stopping and without cost.
cutting post
Did you like the automatic, non-stop and cost-free roll of the Manure Composter and Material Refiner? well the cutting post It also complies with this premise, only this time it produces vegetable ingredients randomly.
You can put a maximum of three units, which I highly recommend. You already have automatic farming of potions, opals, manure and now plants.
Cratch
This Summoning Sorcery is exclusive to nurseries, where you can breed magical animals. animals need cuddles and food to produce materials. You can put one unit per nursery and I recommend that you do so, because the animals will automatically eat and will always be well fed.
A piece of advice from a veteran magizoologist: try to ensure that access to the feeder is free, otherwise some animals will not find their way. The fewer obstacles to the feeder, the better.
breeding pen
He breeding pen It serves exactly what its name indicates: raising magical animals. You select a male and a female of the same species and they produce a tiny magical animal. It is achieved by advancing in Deek's missions and I recommend you put at least one per nursery… although 2 would be ideal.
And why 2 Corrales de Crías is the ideal? Not many witches and wizards know that heThe animals sell very, very well. The Fur and Feathers shop in Hogsmeade will pay you for any rescued animals you find that you don't want for your Room of Requirement.
If you don't have ethical issues in the game, you can dedicate yourself to raising animals and sell the young to Fur and Feathers. The average parenting time is half an hour. Assuming you have two hatcheries in each nursery, you will have 8 pups to sell, which can be quite a bit of money. It's ugly, but it's not bad as long as it doesn't transcend the video game.
BONUS: Animal Toy Box
The animal toy box it's not exactly a summoning spell necessary for your Room of Requirement. It is used to get certain types of balls for the magical animals to have fun. You can see them play. As I told you, it's not necessary… but watching the animals play is priceless. One box per nursery is ideal.
These are the 10 +1 summoning spells that are essential for your Room of Requirement. The rest of the invocations are decorative. These are the ones that are really useful. There are very few of them, which is why many players dream of an expansion with more things for the room… even if Avalanche Software isn't up to the task.