The PS5 update 7.0 has caused a sensation for a reason: it includes the famous Discord voice chat and the possibility of update controllers without using the cable. It is the future! However, the update includes many more improvements that you should know about in order to enjoy them.
Below we will tell you what are all the improvements and new functions that have been introduced in the update and that Sony has reflected on its official blog. Go for it!
New Social and Personalization Features on PS5
Discord on PS5: Now you can use Discord to chat with your friends on PlayStation, Xbox and PC. You must connect your PlayStation account with Discord and use the official app to join a call or voice group.
Hogwarts Legacy's Best Quest Is Exclusive To PlayStation And A Sublime Tribute To The Batman Arkham Franchise
New "join game" icon in party chats– You can now join your friends' games quickly from the voice party menu, without having to search for them in friends or wait for an invite. This centralizes the social section a little more.
Share screen from your friend's profile: Now you can enter your friend's profile to request that they share a screen with you. Just select the icon and the host will receive a request, which you can accept through the PS5 menu.
Console interface changes: Trophies have been moved and the game page gives more information about friends playing that game, hours played (doesn't count quite right) and Trophy progress.
Manually upload screenshots to PlayStation App: You can now disable the automatic upload of screenshots and short clips to the PS App and select the content you want to share.
Game Library Improvements: You can now sort and filter games when adding them to custom game lists. Specific filters are added for VR and VR2 titles.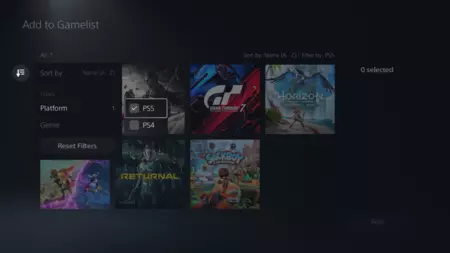 PS5 technical news
Wireless update of the DualSense wireless controller: update the controller without connecting the cable. The 7.0 update has one that updates the controller automatically.
Variable refresh rate support for 1440p: If you use a TRV-compliant HDMI 2.1 display, you can enjoy 1440p resolution when playing titles that support this feature. The PS5 1440p output test parameters have also been updated, making it compatible with more HDMI displays.
Preferences for multiplayer sessions: You can now manage who can join and who can invite other players during multiplayer game sessions. This feature is only available for supported games.
Migrating save data from PS4 to PS5: Sony wants to make it easier to access PS5 with the migration of PS4 save data. When you install a PS5 game (or version) for which PS4 save data is supported, the console will notify you that you can download it from the cloud or upload it from the console. Also, you can transfer the data (games and settings) from one PS5 to another via Wi-Fi or LAN cable.
These are all the additions and improvements of the PS5 update 7.0! We recommend that you take a look at all of them, especially the game migration issue in case you have recently jumped from PS4 to PS5. It's not nice to waste hundreds and hundreds of hours of saved data.