The rhythm never stops in Pokémon GO due to all the events that are enabled from time to time in the Niantic mobile game. These events are very important because they serve as an excuse to capture all kinds of Pokémon or to benefit from very succulent bonuses.
That is what all users will be able to experience during this weekend, because the call is about to start pokemon go tour. Is about a global event that in recent years has taken place around these dates on the occasion of the anniversary of the Pokémon saga, so once again they wanted to repeat the play.
In previous years, this Pokémon GO Tour was dedicated entirely to the Kanto region of the first generation and then it was the turn of the Johto region of the second generation. However, this time we will have to travel to Hoennthe place where the Pokémon of the third generation of the series live, that is, those of Pokémon Ruby and Sapphire.
So that you do not miss any detail of everything that is coming, we are going to tell you all the details of the Pokémon GO Tour: Hoennso that you can spend a few very entertaining days catching Pokémon non-stop, carrying out research tasks or you can also spend time fighting the special Raids that will be enabled.
Date and time of the Pokémon GO Tour: Hoenn
As we said, the event will take place throughout the weekend, specifically on days February 25 and 26. Of course, it will not last all day and will only remain active between 10:00 a.m. and 6:00 p.m. (local time), so you have eight hours ahead of each day to get the most out of it.
The good news is that you don't have to pay to participate in it, because admission is free for everyone, no matter where you connect from.
The different special investigation tasks
Undoubtedly the best way to spend time in Pokémon GO It is with the missions, known as field research tasks, to which we must also add the special research tasks with longer objectives to achieve and to obtain even more important prizes. Something very positive about this event is that two research tasks of this type will be activated.
On one side will be Special Investigation: In Search of Legendsin which players will collaborate with Rhi, from the Ultra GO Unit, to help him investigate everything about some mysterious Red and Blue Cousins, those in charge of summoning Primal Kyogre and Primal Groudon, the strongest forms of these legendary Pokémon.
The other will be about Masterful Investigation: Wish Granted, about which you have to warn that it is only paid, so you will have to access the internal game store to purchase its corresponding ticket for 5.99 euros. In exchange you will have access to some missions that will invite you to capture hundreds of Pokémon and complete other tasks to bring you very useful items in exchange along with the possibility of capturing a shiny Jirachi.
Even so, it is not mandatory that you buy the ticket during this weekend, because it will remain on sale until March 20, so you have until then to purchase it. And don't worry, there will be no time frame to finish it, so you can complete it quietly at your own pace.
The dozens of Pokémon to capture
Throughout the duration of the event there are numerous Pokémon that will appear more frequently than normal. All of them will be divided into different habitats that will rotate every hourso you will have two opportunities a day to get one of them in particular.
The chosen Pokémon correspond to the Hoenn region, so it is a good way to complete this part of the Pokédex if you have any left to register. Likewise, everyone will be able to appear in their shiny version, which increases the reasons for you not to let any of them escape when they appear. Here you have the complete list.
Habitat

Schedule

Pokemon

Burning Sand

From 10:00 a.m. to 11:00 a.m. and from 2:00 p.m. to 3:00 p.m.

Aron
Bagon
balty
Cacnea
lotad
Makuhita
nincada
nose pass
number
poochyena
Torchic

Mysterious Fog

From 11:00 a.m. to 12:00 p.m. and from 3:00 p.m. to 4:00 p.m.

absol
beldum
Chimecho
luvdisc
meditate
ralts
Seviper
snorunt
spoink
Surskit
Whismur
zangoose

Leafy Earth

From 12:00 to 13:00 and from 16:00 to 17:00

electrike
Gulpin
Mawile
Roselia
seeddot
shroomish
skitty
slakoth
swablu
Treecko
wurmple
zigzagoon

Ancient Shores

From 1:00 p.m. to 2:00 p.m. and from 5:00 p.m. to 6:00 p.m.

Anorith
Barboach
Carvanha
clamperl
Corphish
Fees
lileep
mudkip
spheal
Taillow
wingull
The amount is already enormous, but not everything ends there, because the event will have a Ruby Challenge and a Sapphire Challengeso the more Field Research tasks of the assigned team are successfully completed, the more likely the following Pokémon will appear.
Habitat

Pokemon

PRIMAL WAVE: Groudon

Castform (Sun Form)
Plusle
solrock
Trapinch
volbeat

PRIMAL WAVE: KYOGRE

Castform (Rain Form)
illuminate
Lunatone
minimum
wailmer
To get all of them it is good to use an Incense, which causes them to appear more frequently. In fact, consuming one of them will make a special Pikachu appear with Bruno's hat or Aura's ribbon, the very characteristic garments of the protagonists of pokemon ruby ​​and sapphirealong with the letters E, H, N, and O for Unown.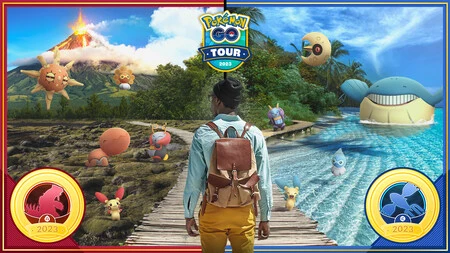 With respect to the eggs, all the ones you get in the event will contain a few different Pokémon than usual and will vary depending on which ones you hatch. Prepare a good shoe to walk long enough if you want to get all of them, with the possibility that they come out in their shiny version.
Eggs

Pokemon

2 kilometers

azurill
igglybuff
mudkip
pichu
Torchic
Treecko
Wynaut

5 KILOMETERS

7 KM

Bagon
beldum
Fees
Trapinch

10 KILOMETRES

relicanth
Torkoal
tropius
The fights of the Raids
While you dedicate yourself to capturing Pokémon you can go to the Gyms, where it is possible that they appear Raids you can participate in to fight against certain Pokémon. What's more, if you beat them you will have the opportunity to add them to your collection. And be very careful because among them are the Primal forms of Kyogre and Groudon.
raids

Pokemon

1 star

5 stars

Deoxys Attack Form
Deoxys Defense Form
Deoxys Normal Form
Deoxys Speed ​​Form

primal

Primal Groudon
Primal Kyogre
New items for the Avatar and gifts
To make the most of the Pokémon GO Tour: Hoenn you can go to the in-game Store, where you will find a few items to modify the appearance of your avatar. Among them there is a complete set of presses based on Bruno and Aura, but if you are one of those who like legendary Pokémon more you can opt for the Kyogre and Groudon tracksuits or the Keckleon backpack.
The icing on the cake will be the event-themed stickers, available at the PokéStops when you spin them or also in the in-game store itself in exchange for a few coins.