I couldn't have chosen a better travel companion for my introduction to pencil and dice games. Like in Assassin's Creed Valhalla, Roll & Raid He has had me for the last few days recruiting Vikings, conquering territories and taking advantage of the looting to improve my settlement.
Best of all, despite changing the graphics for imagination and the console for a piece of paper, the experience of playing it both as a family and alone has been hilarious. Any fear I might have had about this type of format has disappeared in one fell swoop.
How to play Roll & Raid
With two years to turn your settlement into the most powerful of all, games of Roll & Raid They are divided into two years with eight shifts each that simulate four months of winter and another four of summer, each one with its particularities.
To achieve our objective we will start by rolling the three resource dice that we have at our disposal, one of each color to reflect the different production options that we have available: wood, metals or Vikings.
Through a progress tree that we can customize at will to pursue the resources that can help us most to achieve our goal, we will choose two of those dice to improve production, obtaining passive abilities, favors from the gods or building ships and axes that we need for the next step: looting.
With different random objectives that will be put on the table, our role from here will be to choose which place we are going to loot, fight against one of our rivals sacrificing Vikings to see who gets the chosen objective and, if we win that battle, spend the necessary resources for the trip and throw ourselves into battle based on dice rolls to gain control of that region.
A board game with a hobby soul
I recognize that, more due to inexperience than lack of curiosity, the first contact with Roll & Raid It was very difficult for me. The sheet in which to write down all the details of your progress and that of your army is one of those things that, at least in the first impression, are capable of overwhelming a lot.
Luckily, it is enough to do the first round to understand that all this, despite the apparent complexity based on symbols and boxes, is much simpler than it seems and does not even require a couple of readings of the rules to get the hang of it. trick.
Keeping track of what you have and don't have is easy to see, recording your progress is quick enough so that the game doesn't get boring, and everything is resolved quickly enough so that, before you know it, you're done. facing the final stretch and begin to reap all the fruits of the effort you have made based on improving your settlement during the previous turns.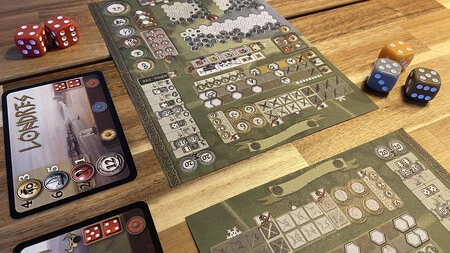 With sheets that you can use on the front and back, the pad of them is thick enough for you to be lazy to count how many there are, but you have to end up liking a lot Roll & Raid enough for there to come a point where you worry about it. And you can believe me, if it ends up hooking you as much as I do, you're going to play a lot.
Board game roll and raid pegi 12