The expansion Eclipse either lightfall Destiny 2 is just around the corner. It opens on February 28 and will have a previous maintenance period. This is a rather special expansion for three reasons: it introduces a new subclass (the Tether); The Traveler's nemesis, The Witness, arrives in our solar system and unleashes all-out war on Neptune; and there are very important changes in the base of the game.
If you are a veteran gamer, you are surely ready for Eclipse and The Witness. If you just arrived with the version Free-to-play or you come back after a while, I give you some tips on how you can prepare for war what is coming right now.
Before starting
It doesn't matter if you're a veteran, just back, or new. This section is for all guardians. destiny 2 It is not as complete a game as we would like. There are a number of external details that you should know to have a more comfortable and fun experience.
DIM: This app allows you to manage your inventory and storage without having to touch the in-game menu. Just sign in and link your account. Also, you can take a look at the inventory of all merchants and Xur's position in the "Traders" section. You can use it through the browser (PC) or download it to your mobile.
Destiny 2 Official App: This app is a must have. You must download it to your mobile, log in with your account and link your platform. You can manage your inventory, claim contracts and make squads with other players. Go to the "Squads" section, look for the activity you need to do.
find a group: Join and the leader will send an invite. Accept in the game and play.
create a group: Specifies the activity, the name, the number of players and if a microphone is necessary or not. When the guardians join, hit "send invites" to send an invite to the joined guardians. You don't have to touch the controller/keyboard.
It is often used to make more difficult activities (and better rewards) that don't have in-game matchmaking. At this point, you shouldn't have any problems because you will almost always have very powerful guardians to help you. Bungie is working on implementing this system in the game… but until then it is what it is.
You should keep in mind that the number of things you can do depends on the number of expansions you own. Try to make the most of everything you can do and remember that preparing for Eclipse involves farmthat is to say: repeat many activities in search of equipment.
REMINDER: Beyond Light expansion is free in February 2023 with PS Plus.
Subclass and armor builds
Any Guardian preparing for Eclipse should know that the expansion will come alongside an update that will change destiny 2 to the point of looking like Destiny 3. The biggest change will be that armor (helmet, arms, chest, legs, and belt/bracer/cloak) will no longer have light charge.
What does it mean when armor loses its light charge? That a piece of armor will be worth for several character constructions or builds. In addition, the modifiers that apply to armor pieces will receive changes and seasonal item, which until now granted new modifiers, will be completely changed. In other words: most current constructions or builds they will be useless.
First Tip for New Guardians: Do not break your head chasing a specific construction that occurs to you or that you have seen in guides. It's going to stop working for you soon. Instead, look for armor pieces with high stats. Ideally, the "Total" exceeds 63-64 points and that they are well distributed among the attributes you need. Recovery, Discipline and Stamina are usually the most sought after so far.
Armament
Same philosophy with weapons. At this point you have little time to get the best weapons. My advice is to keep those with which you feel most comfortable and have synergy with your subclasssince many of the weapon-subclass relationships will survive all the changes that Eclipse will bring.
I propose three activities to get powerful weapons:
On Fridays (6:00 p.m. Spanish time) appears Xur at a given point on a random planet. Try to locate him and pay him a visit. He usually brings one exotic weapon and one exotic armor piece for each class. It also brings exotic weapons Dead Man's Story (don't hesitate to buy it) and moonhawkand some purple weapons and armor that should be powerful.
If you have the expansion Forsaken either The renegadesthis week you can do Nightfall Strikes (in Vanguard) to get the heavy grenade launcher Wendigo GL3. You should look for it with the following attributes: Quick Launch, Spike Grenades (Proximity for PVP), Auto-Loading Holster, and Explosive Light.
If you have The Witch Queen expansion and access to the dungeon Watcher's Spire, feel free to destroy this activity as much as you can. Call a couple of friends or use the game's official app to find a squad. Because? because they fall armor pieces with high stats and because the final boss can give you the exotic bow Hierarchy of Needsthe most powerful weapon in Destiny 2 currently.
Power Level
Like the rest of the expansions, Eclipse will increase the level of power or light. This and all the changes that the update will bring will leave all guardians in diapers, be they veterans, returning or newbies. That's why there's no point in obsessing over subclass constructs.
With that being said, what can you do to get as strong as possible into Eclipse? You have little margin, but it is not impossible. Your goal is to reach the 1600-1610 of power, something very respectable for the time you have left and more if you don't have friends to play with.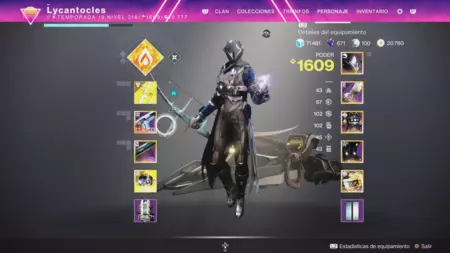 Claim all contracts you can from La Torre and the CLME. Visit Zavala, Banshee, the Nomad, and the rest of the npcs to get their contracts. They will keep you busy while you do the rest of the activities. You will get more experience and rewards. Redeem them when you are in a squad with other guardians, as you get an extra for being in a group.
You must do ALL the activities you can that have weekly missions. You'll recognize them because they have a shiny round icon with a star. Including Crucible and Gambit, even if you don't like PVP. Every time you complete one, you'll get a Powerful Engram, which contains a high-powered weapon or armor.
If you want, you can follow the story missions that you have They tend to give you good equipment and offer you a goal to follow so you don't feel too lost.
The number of contracts and activities you can perform will depend on the expansions you own. If you are playing with the version free to play of the game and you are thinking of buying an expansion, let it be Eclipse. If you can't, my advice is to save and don't spend on other expansions until you can buy it. Later you can catch up with the rest.
As I said, you have very little margin. It's not impossible, but everything you can do will help prepare you a little more for everything that comes with Eclipse. The changes also include changes to the menus, so do not despair if you're lost… we're all going to be as of the 28th.
My advice as a veteran Guardian is to take advantage of these days to get what gear you can, get into the rhythm of Destiny 2 (learn the basics and explore) and meet other guardians that can help you in your adventure in Eclipse.